Switzerland-based blogger @SwissRamble published a very interesting analysis of Celtic's 2016/17 accounts on Twitter today. He kindly allowed us to repost the full thread below.
Celtic's 2016/17 accounts provide evidence of financial dominance domestically, but also highlight reliance on the Champions League and the widening gap to the richer European clubs. Some thoughts in the following thread.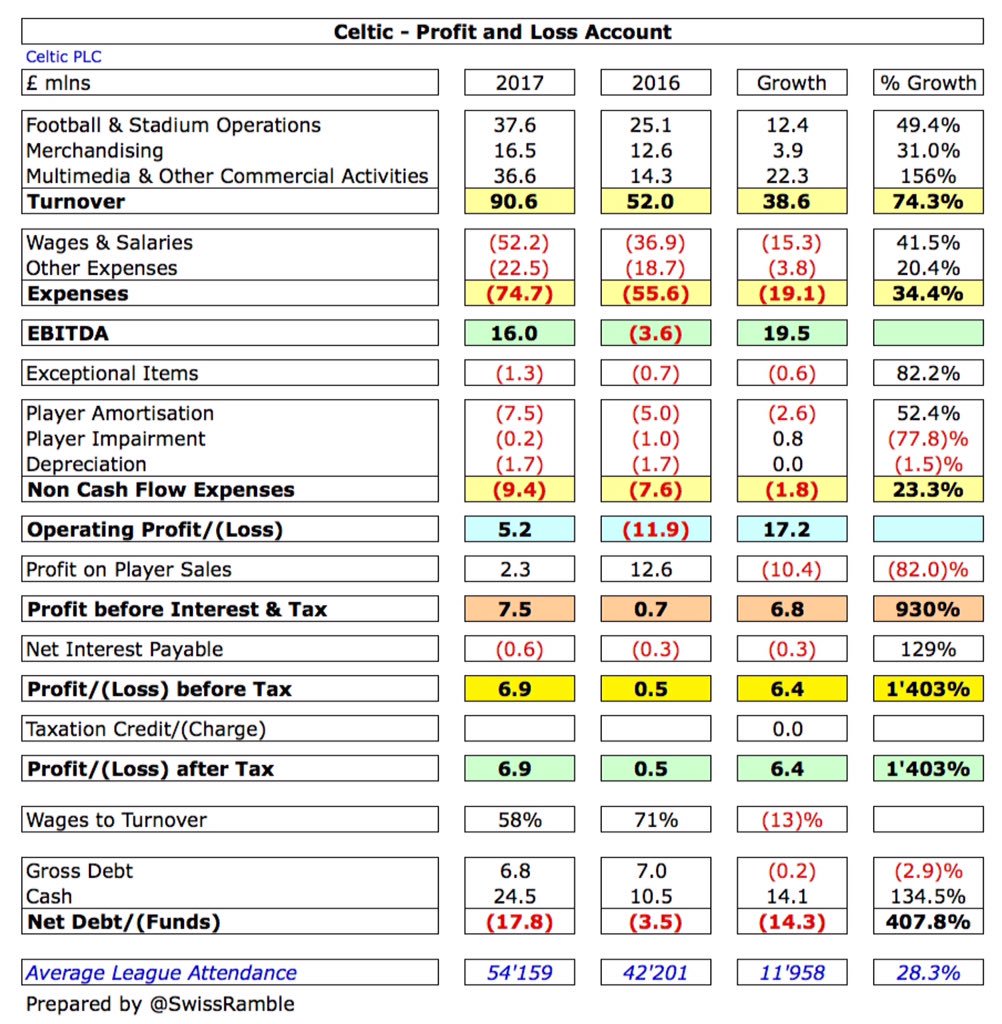 Celtic's profit increased from £0.5m to £6.9m, as revenue grew by 74% (£38.6m) from £52.0m to £90.6m, largely due to the additional income generated from qualifying for the group stage of the Champions League, but all revenue streams were higher.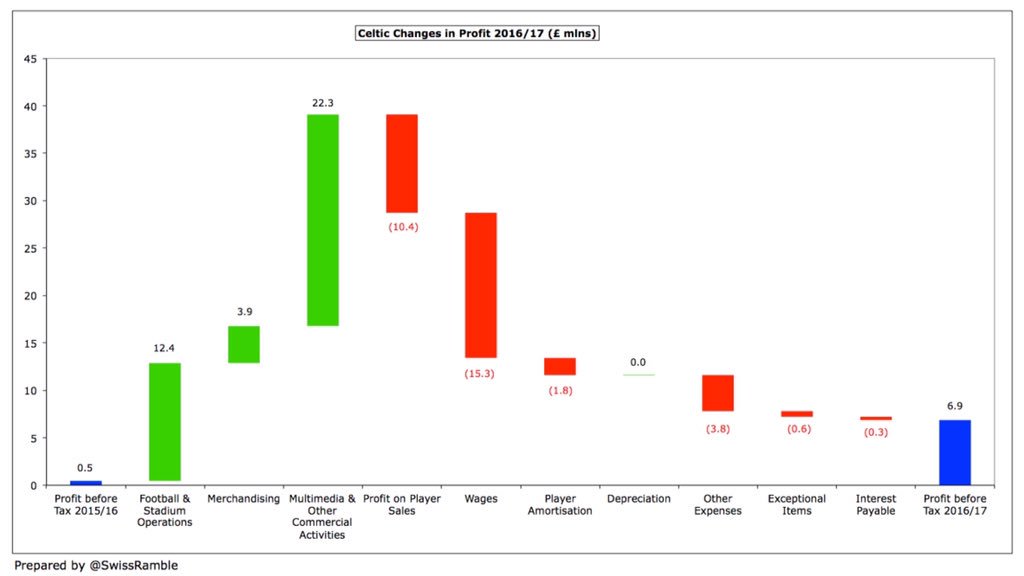 Multimedia & other commercial activities rose £22.3m to £36.6m, due to Champions League money & increased sponsorship; football & stadium operations was up £12.4m to £37.6m (season ticket sales plus CL); and merchandising up £3.9m to £16.5m as 3 new kits were launched.
On the other hand, profit on player sales dropped £10.4m to just £2.3m (Virgil Van Dijk sold to Southampton previous season), while there was much cost growth: wages £15.3m, other expenses £3.8m and player amortisation/impairment £1.8m.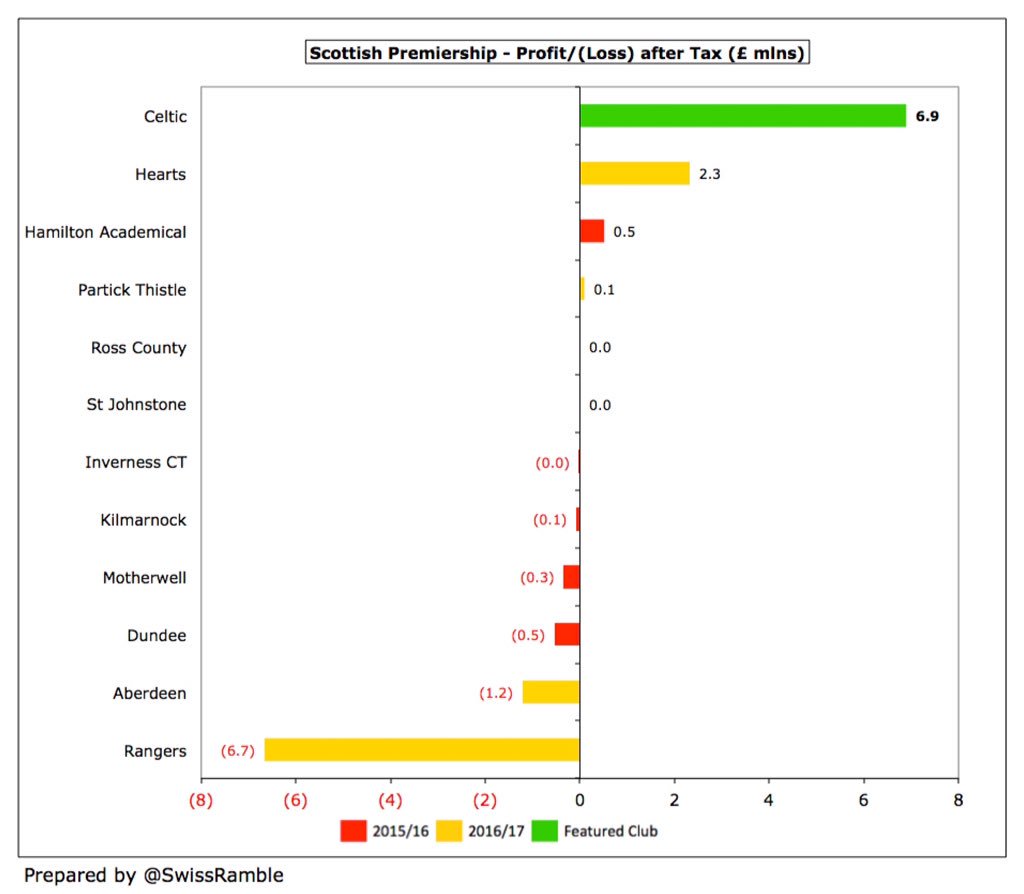 Celtic's profit after tax of £6.9m is the largest in Scotland, followed by Hearts £2.3m. Most clubs break-even (or make small losses), though the exception is Rangers with a £6.7m loss.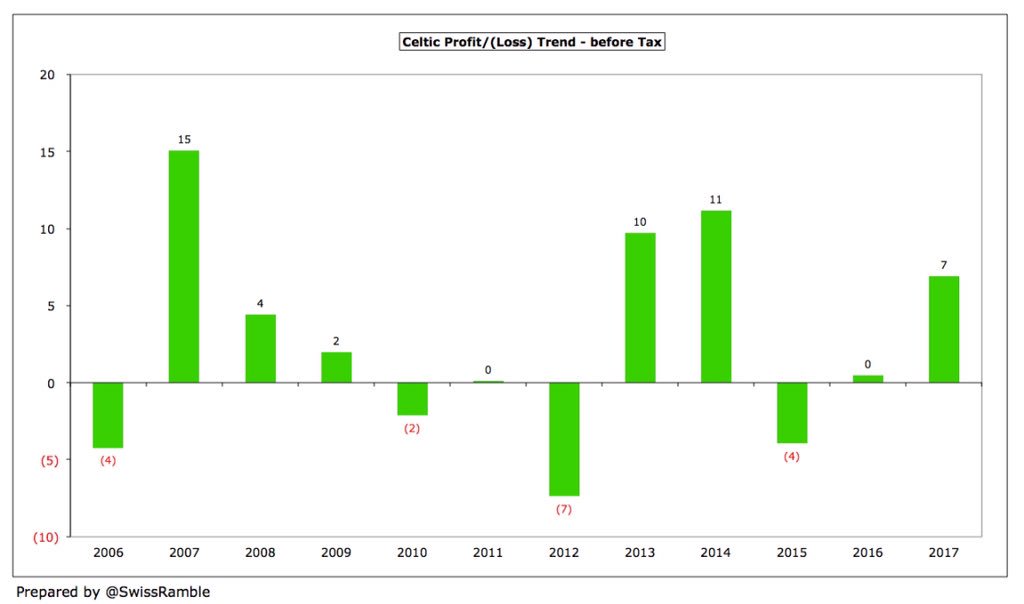 Celtic are essentially a profitable club, reporting profits in eight out of the last 11 seasons, though we're not talking enormous sums: a total of £24m for the last 5 years.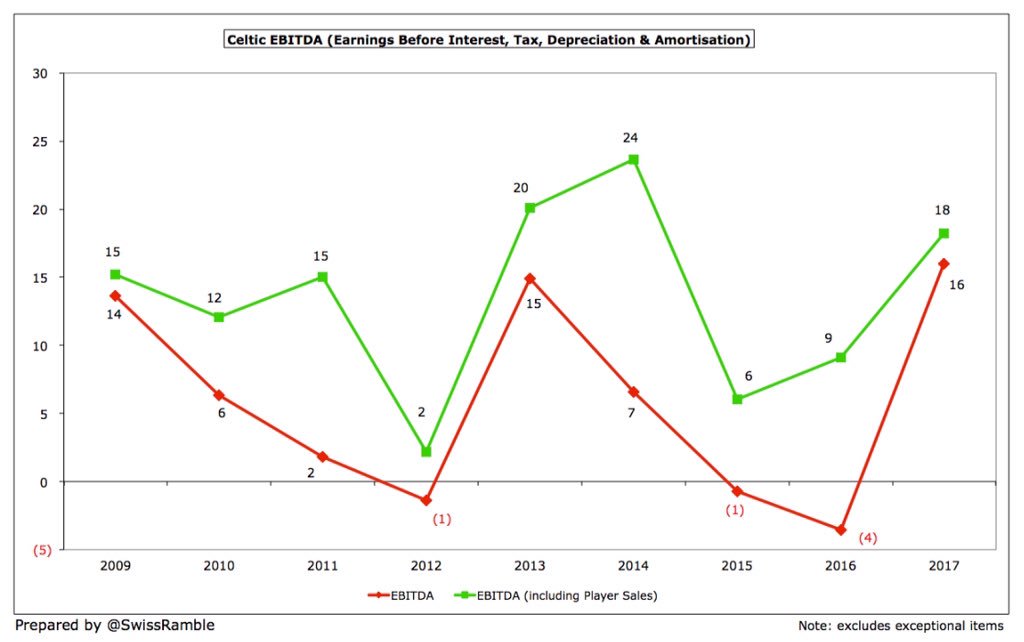 Celtic's EBITDA (Earnings Before Interest, Tax, Depreciation & Amortisation), considered a proxy for cash operating profit, shot up from £(4)m to £16m. Including player sales, EBITDA was £18m. In prior years, Celtic have been quite dependent on player sales, e.g. 2014.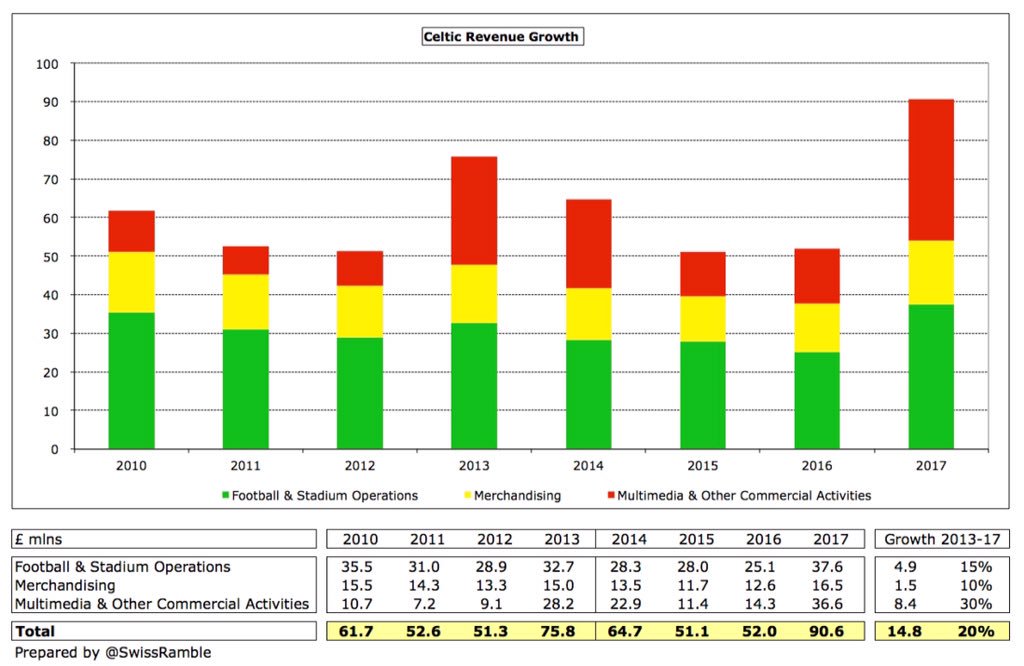 Celtic's revenue of £90.6m is 20% (£14.8m) more than their previous high of £75.8m in 2012/13. Football & Stadium Operations and Multimedia & Other Commercial Activities both contribute around 40% of revenue.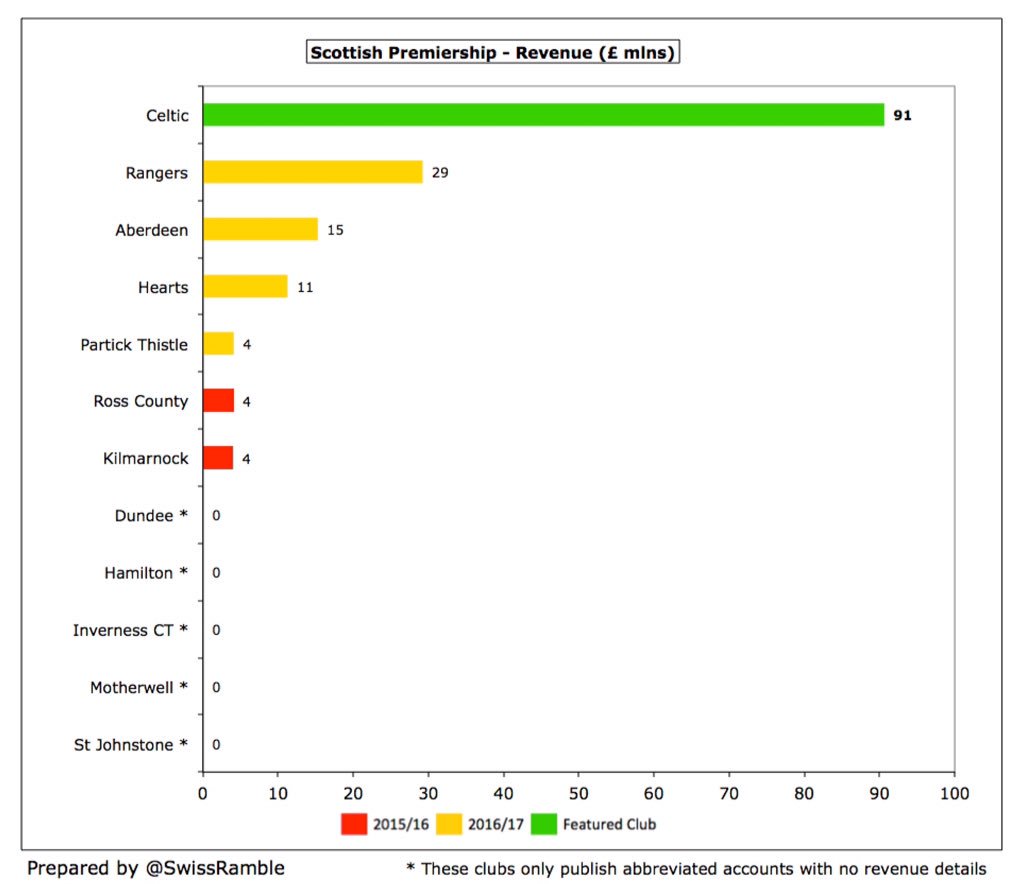 To emphasise their domestic dominance financially, Celtic's revenue of £91m is more than three times as much as Rangers £29m, followed by Aberdeen £15m and Hearts £11m.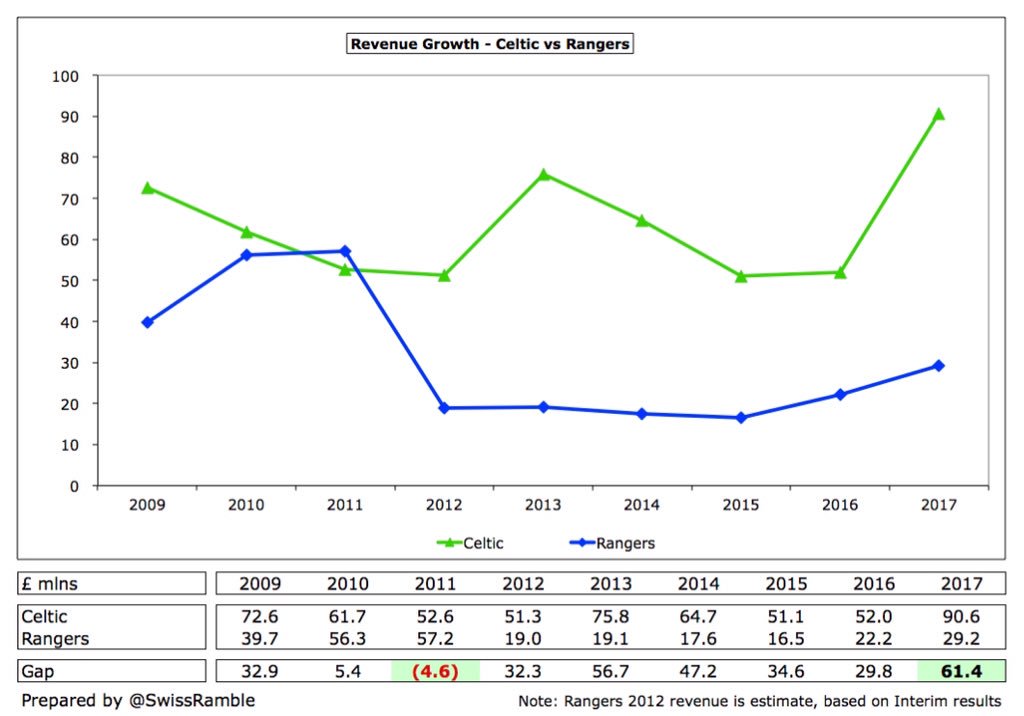 The revenue gap between Celtic and Rangers has widened to £61m, whereas Rangers had a £5m advantage back in 2001 before their problems off the pitch started.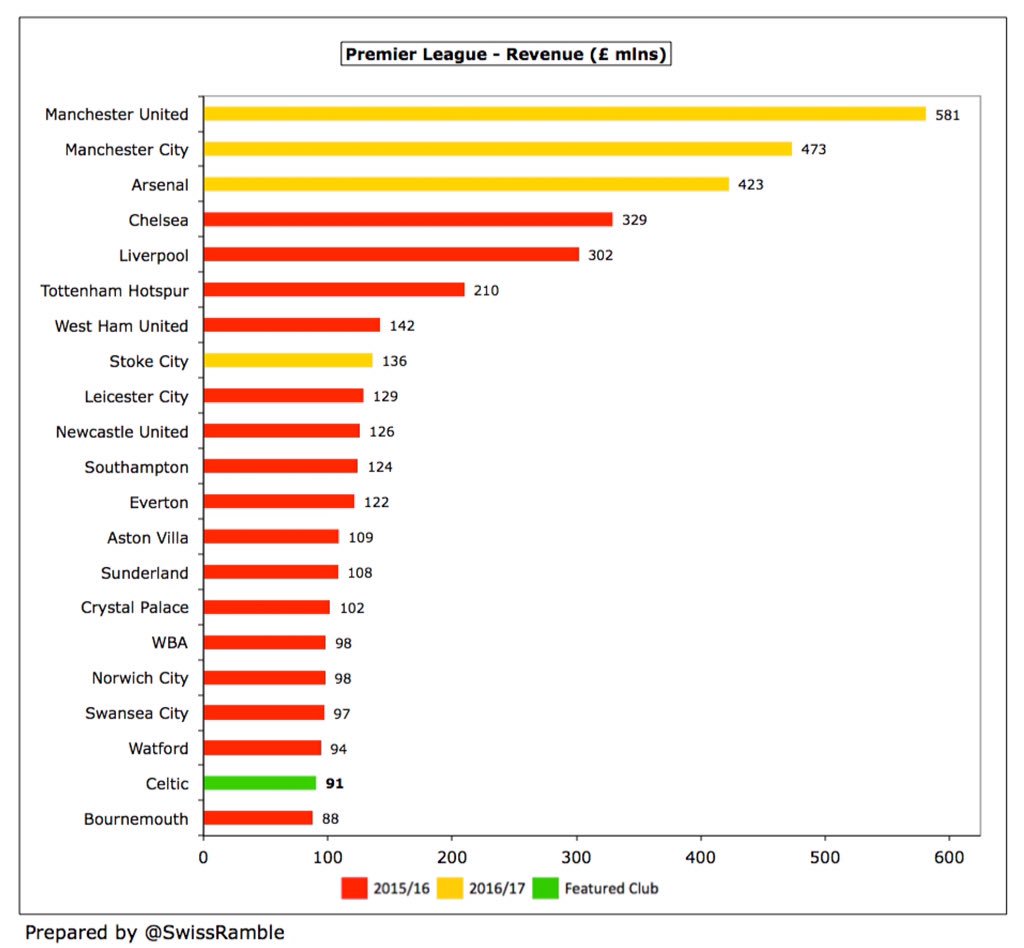 However, to place this into perspective, Celtic's £91m revenue would have only placed them above Bournemouth in the Premier League in 2015/16 – and that will not be in the case in 2016/17 with the advent of the new English TV deal.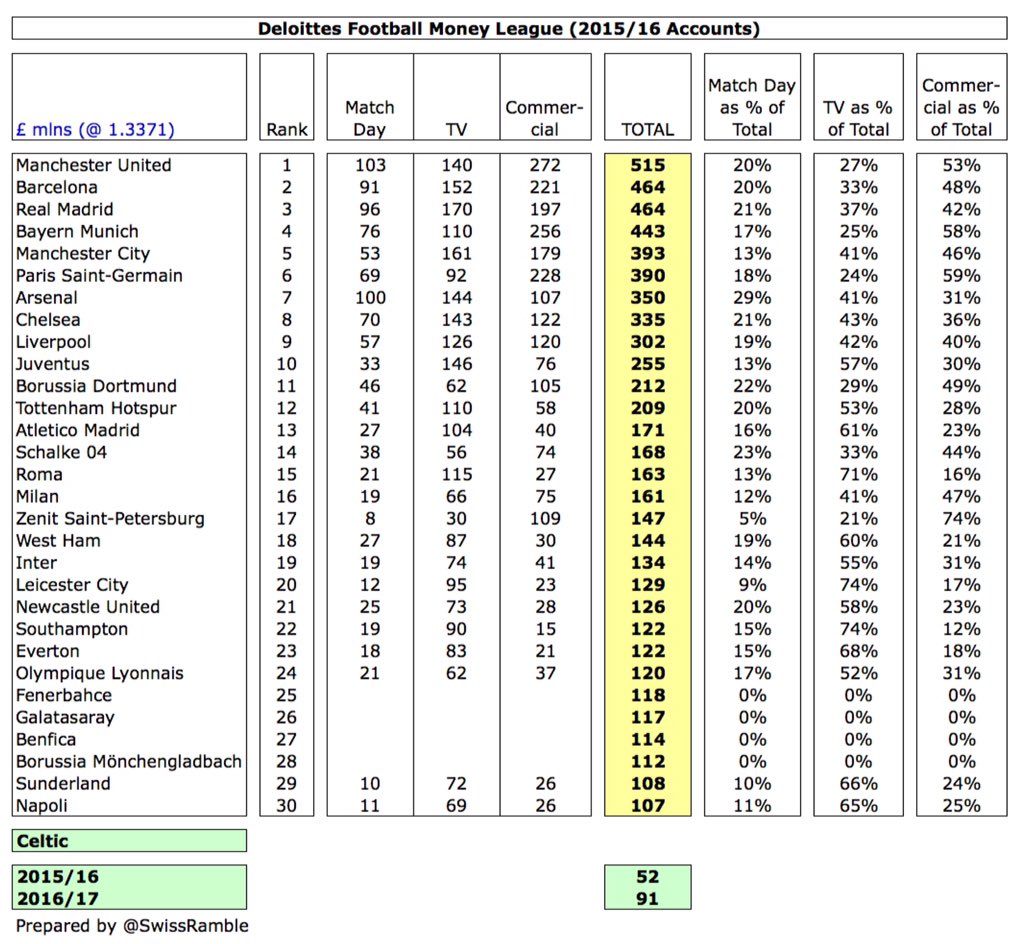 The rise in TV money in England has pushed Celtic out of the top 30 in the Deloitte Money League with the financial gap continuing to widen, e.g. Manchester United's 2016/17 revenue of £581m is an incredible half a billion a year more than Celtic FC.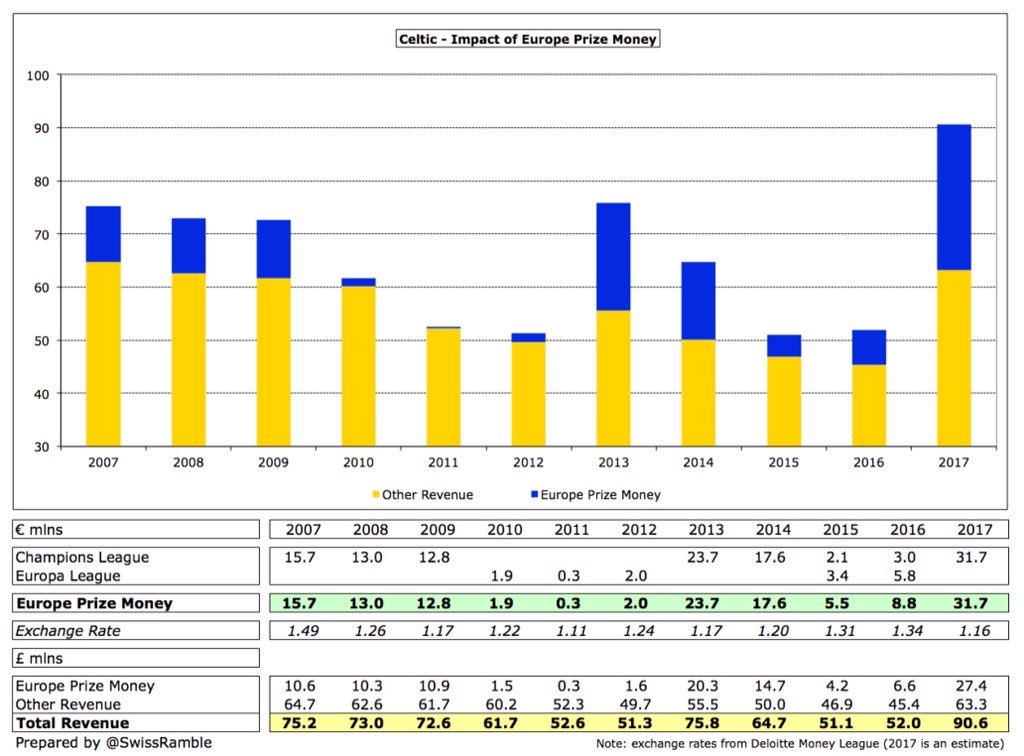 The club references the "paramount importance" of participation in group stages of the Champions League, which can be clearly seen in 2016/17 with £27m of total £91m coming from prize money alone, helped by weakening Pound (excluding increases in match day & commercial).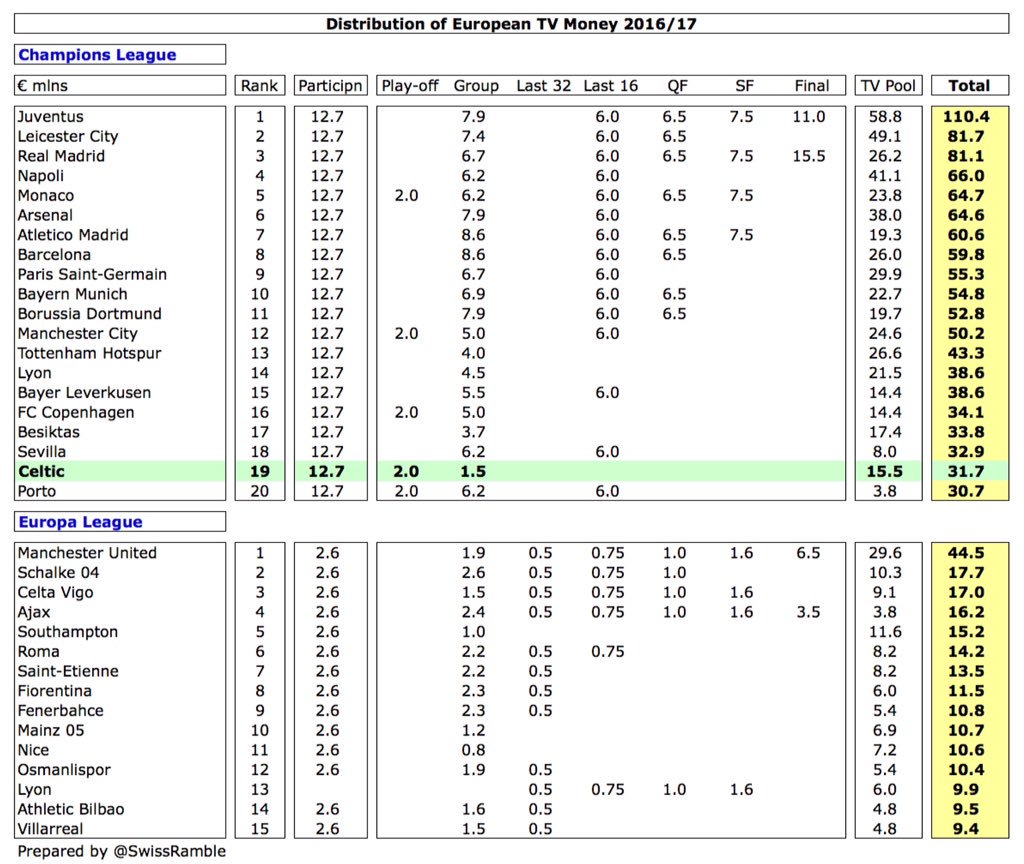 In fact, Celtic's €32m was the 19th highest payment in the 2016/17 Champions League, in between Sevilla €33m and Porto €31m, even though they did not actually win a game in their group.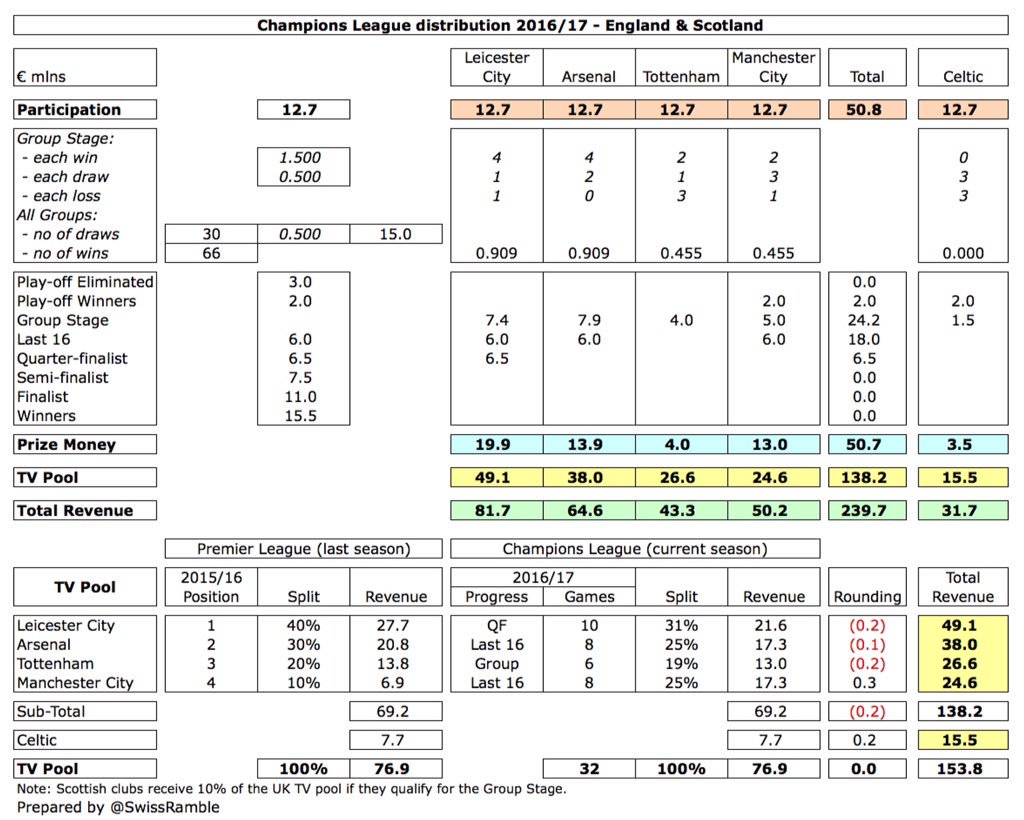 Around half of Celtic's Champions League €32m distribution is their share of the British TV pool (€15.5m), as Scottish clubs receive 10% if they qualify for the group stage.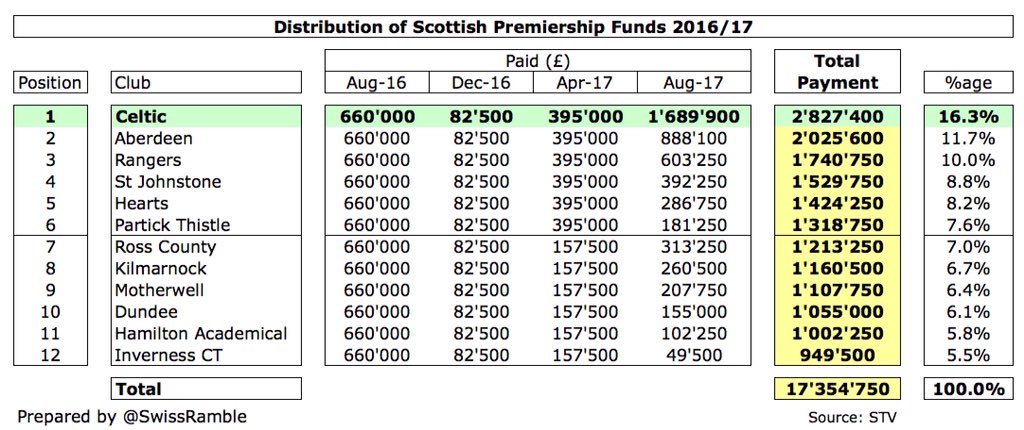 In stark contrast, Celtic only received £2.8m from the Scottish domestic TV deal, even though they again won the league. This was £0.8m more than Hearts received.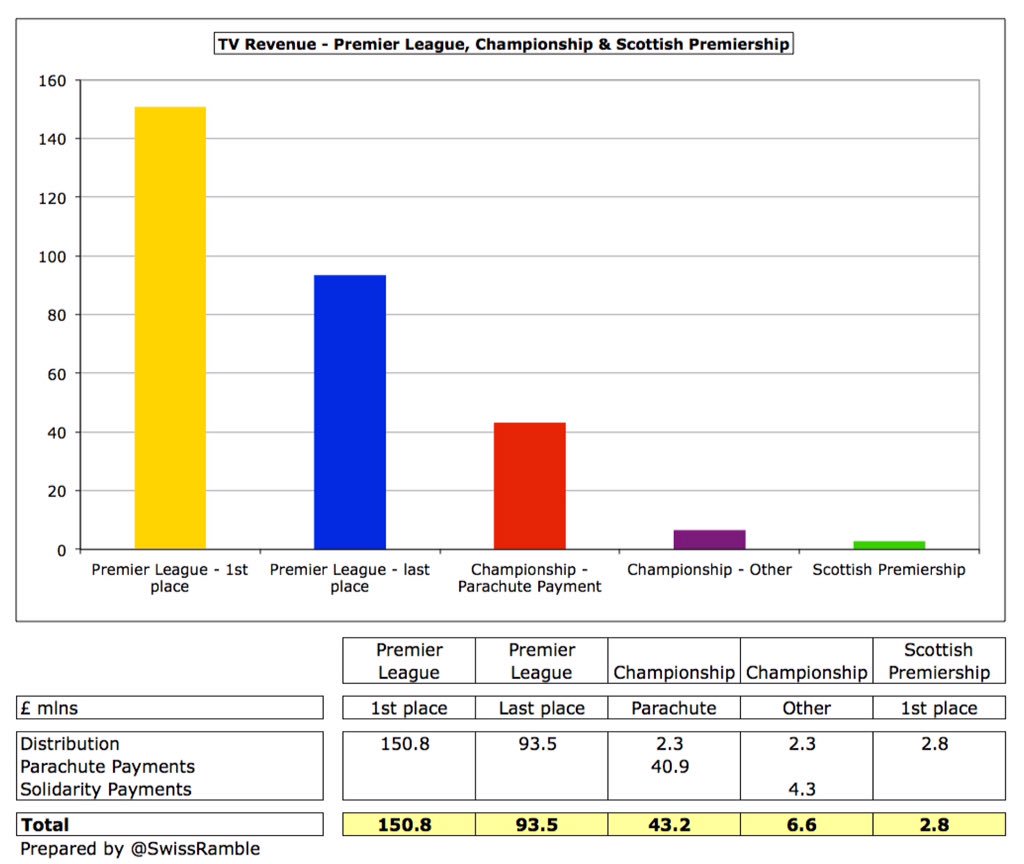 For some perspective, the Premier League winners received £151m, while the last placed team got £93m. Even Championship clubs get more than twice as much as the Scottish champions (£6.6m) with £43m for those with a parachute payment.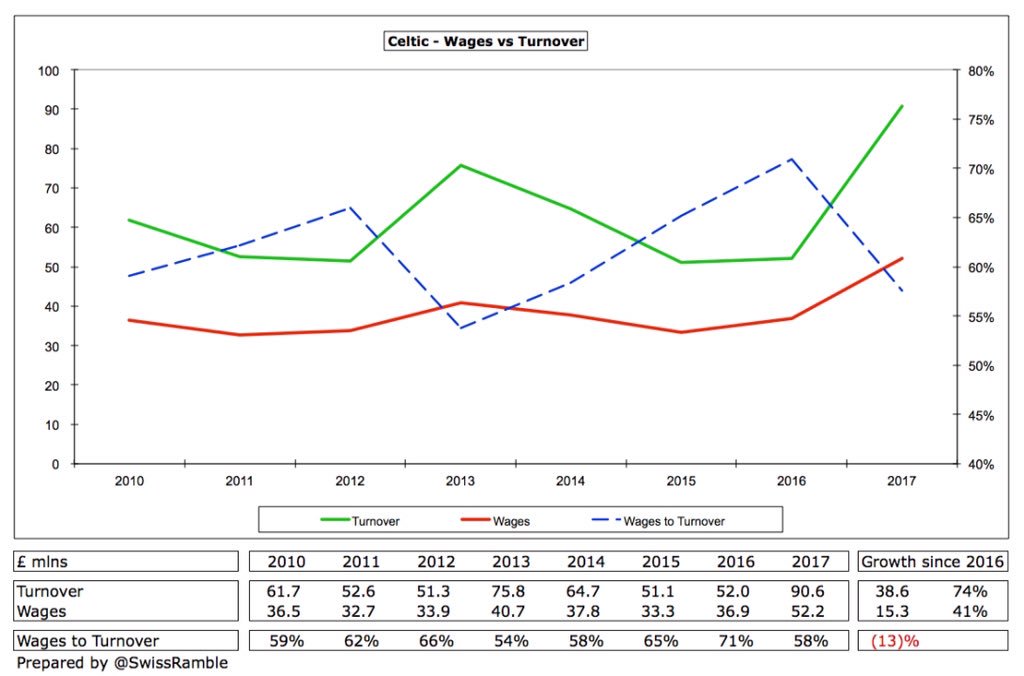 Celtic's wage bill grew by 41% (£15.3m) from £36.9m to £52.2m (their highest ever) in 2016/17 with the addition of some players on relatively high contracts, but the wages to turnover ratio was still cut from 71% to a very respectable 58% due to the revenue growth.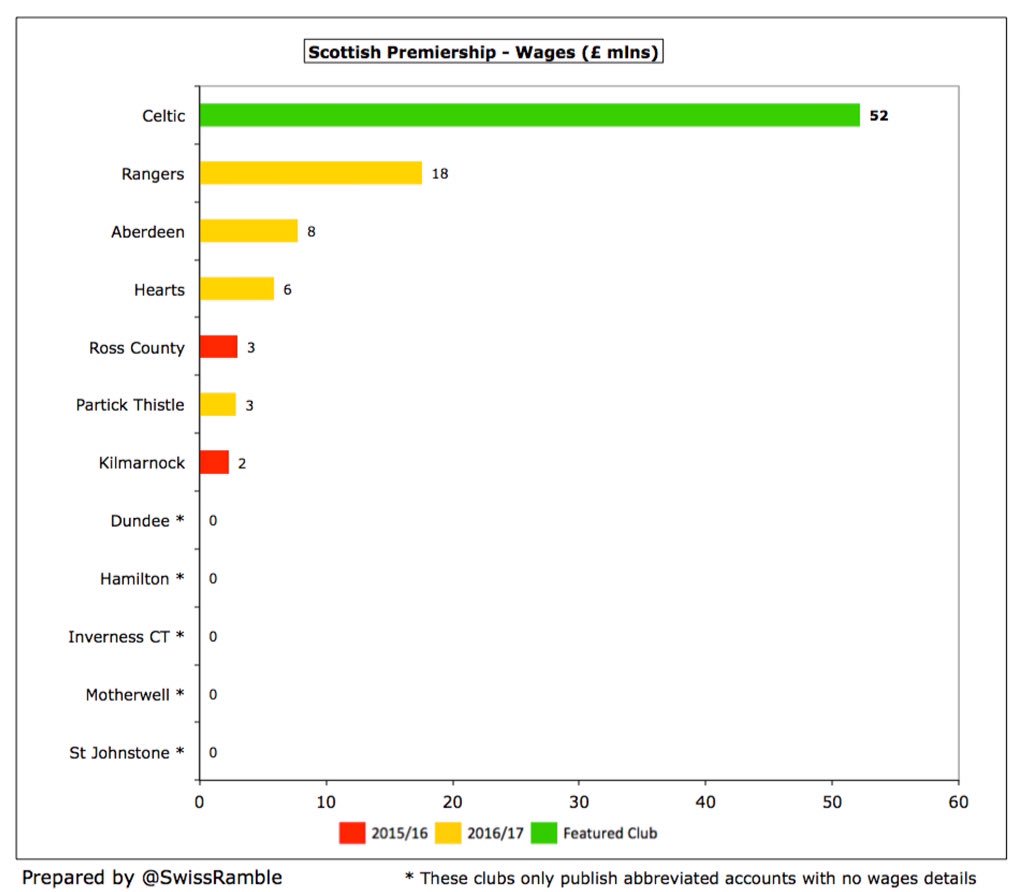 Celtic's £52m wage bill is around three times as much as Rangers' £18m, followed by Aberdeen £8m and Hearts £6m, so their monopoly of the Scottish Premiership should be no great surprise.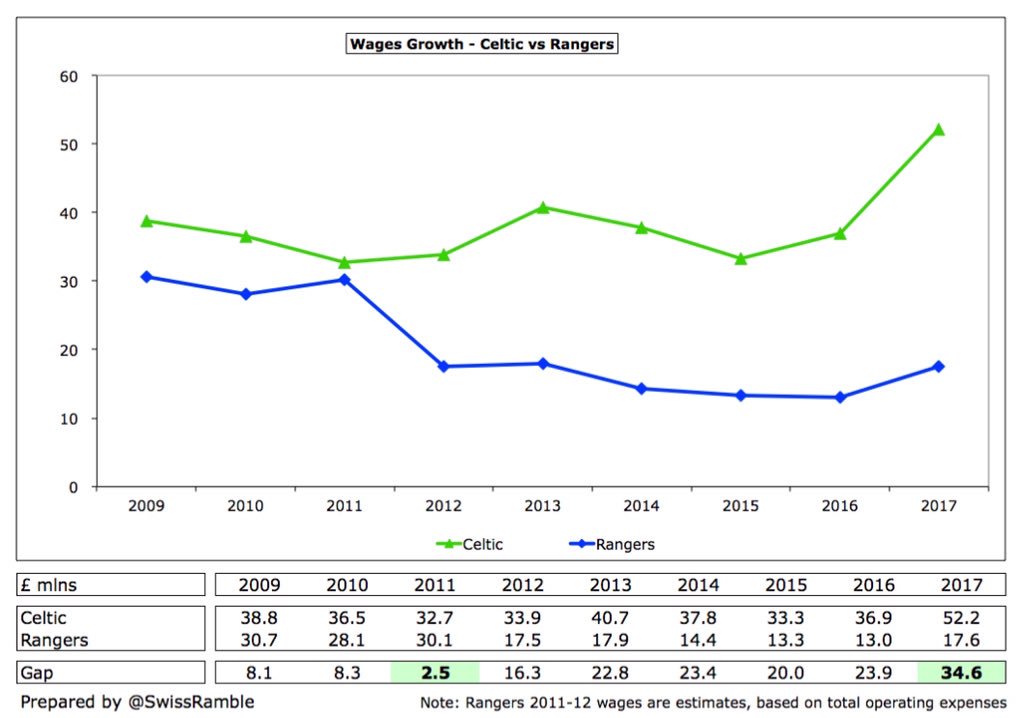 Celtic and Rangers enjoyed virtually the same wage bill in 2011, but the gap has now widened to £35m.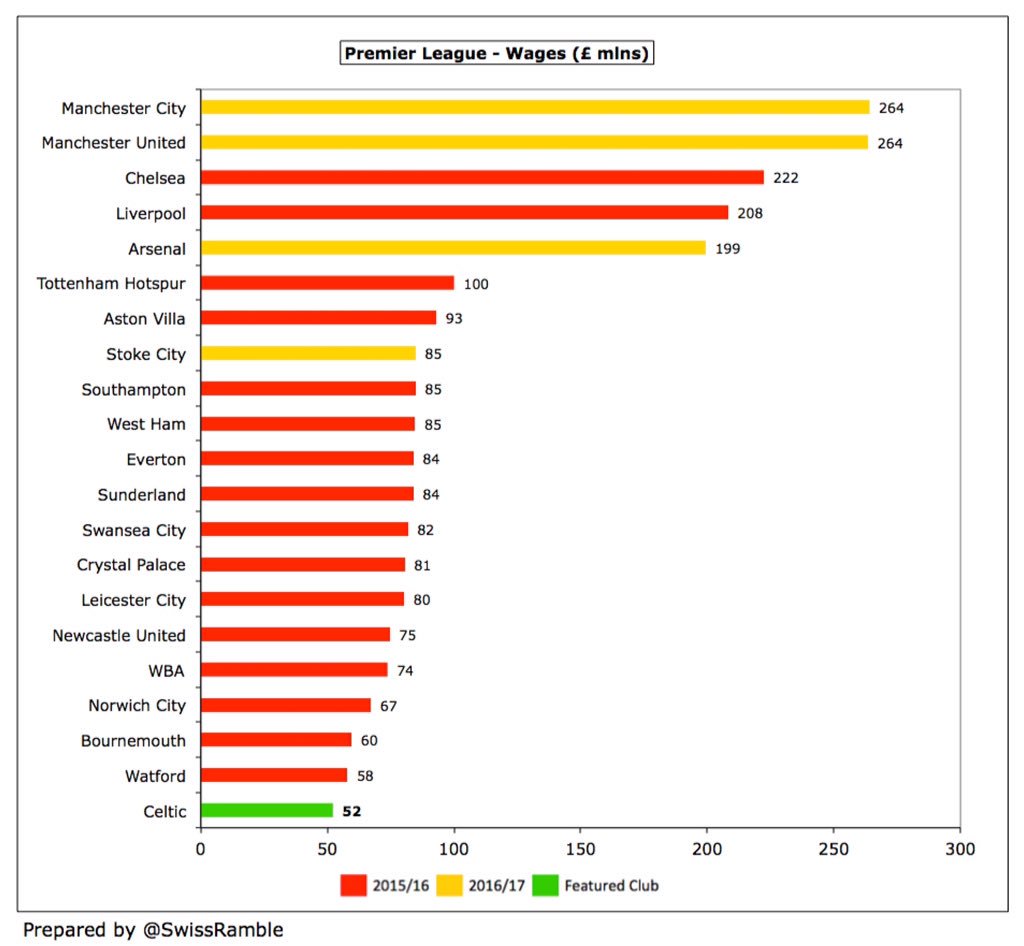 For some more context, Celtic's 2016/17 £52m wage bill would have been lower than all English Premier League clubs in 2015/16 (smallest Watford £58m). Wages at the two Manchester clubs of £264m are five times as much.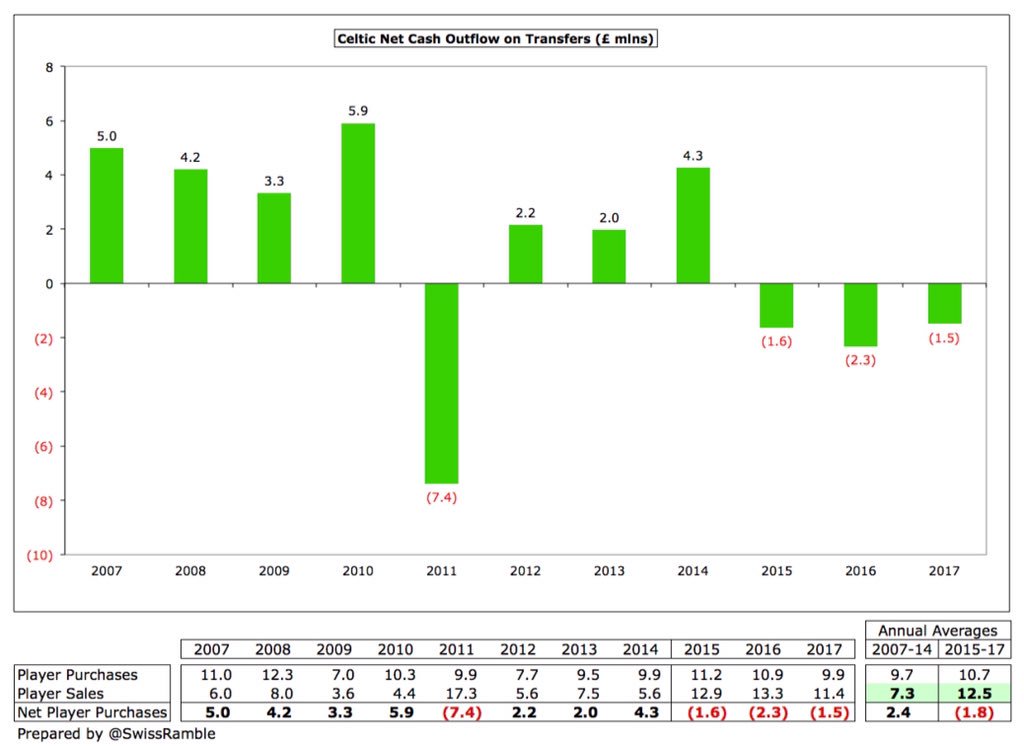 Despite their prosperity, Celtic had net player sales in last 3 seasons, not because they have cut purchases (£10-11m a season), but they have made higher sales. They spent £6m in summer with less than £1m sales (though rumours suggest a 10% sell-on clause for Van Dijk).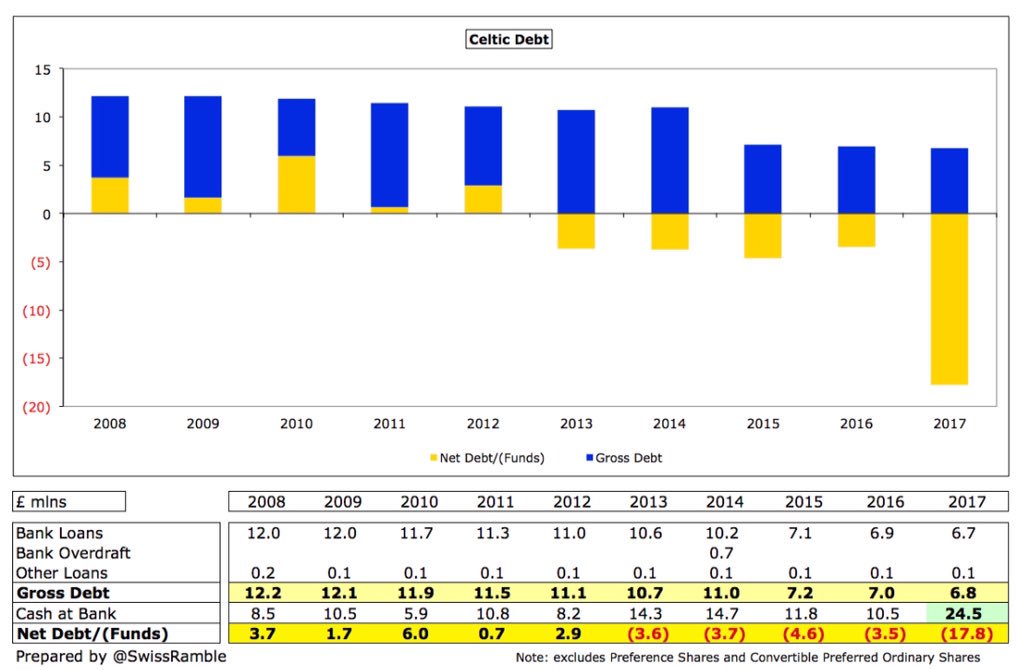 Celtic have gross debt of only £6.8m with net funds of £17.8m after considering £24.5m of cash balances. The debt comprises bank loans with The Co-operative Bank (part of an initial £20.4m loan facility, refinanced and reduced during the year to a facility of £12.3m).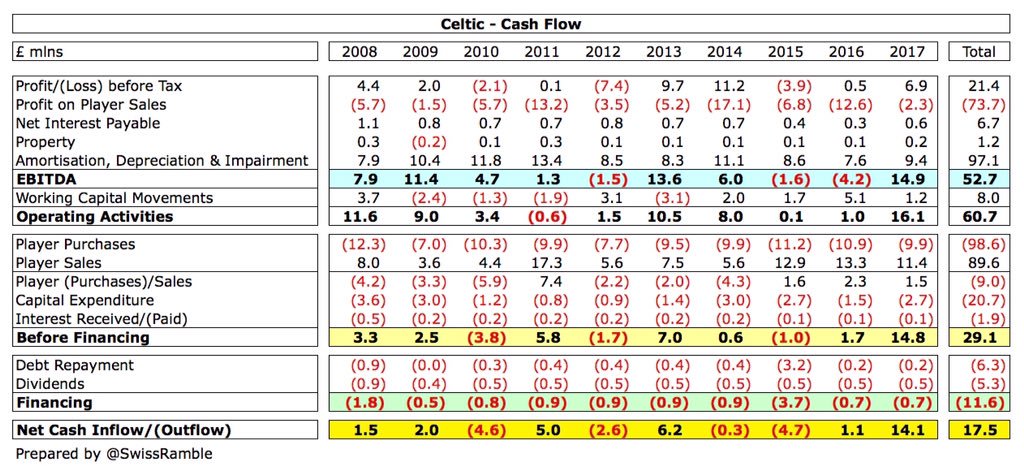 Celtic's board has been accused of hoarding cash, but that has not really been the case – until last season when the cash balance was increased by a hefty £14m, largely due to the improvement in operating profits.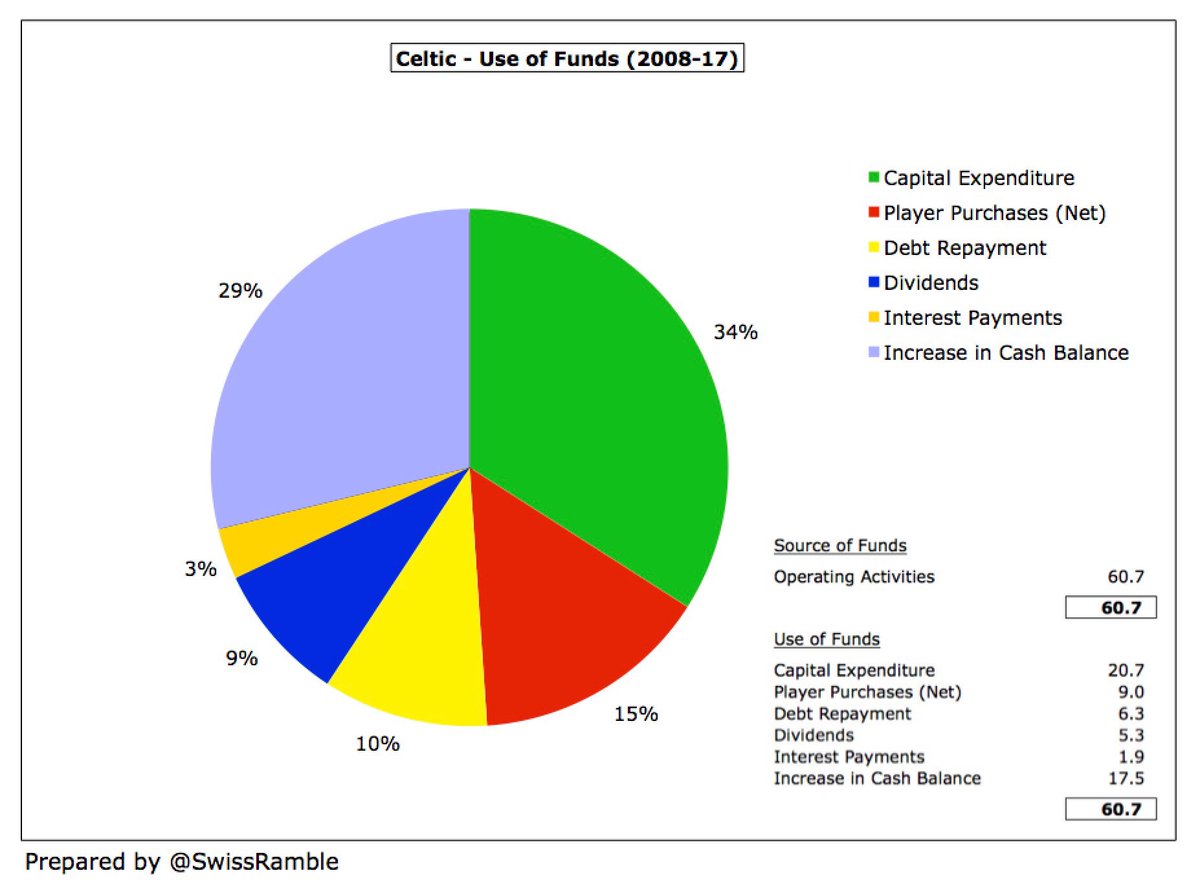 In the last decade Celtic generated £61m from operations, spending around a third £21m) on improving Celtic Park and Lennoxtown training ground. Just £9m went on players (net) with much spent on financial issues: debt repayment £6m, dividends £5m & interest £2m.
Read on Twitter